Achieve the waves you've always wanted
Our OG Mermaid Waver is the perfect solution
Have Beachy waves and healthy hair. To maximize its advantages, cleanse your hair with our Styling Shampoo and Styling Conditioner before styling. Use Grip Clips to divide your hair into 1-inch sections for enhanced definition and waves, especially with smaller sections.
You have the flexibility to begin from the crown, eye, or cheek line, enjoying the numerous benefits of this versatile styling technique.
10% Off for a Limited Time
Style your mane to suit your own unique vibe, from added body to full bouncy curls. A million looks with one tool.
The perfect solution for babes who struggle to curl or wave their hair. It's the hair tool you didn't even know you needed to create salon-worthy beachy waves at home.
5-Star Reviews by happy customers
The fastest-selling hair tool across the globe, it is loved by celebrities, stylists, and influencers alike.
Mermade Hair will Transform Your Style
Professional-Quality Waves
Versatile Styling Options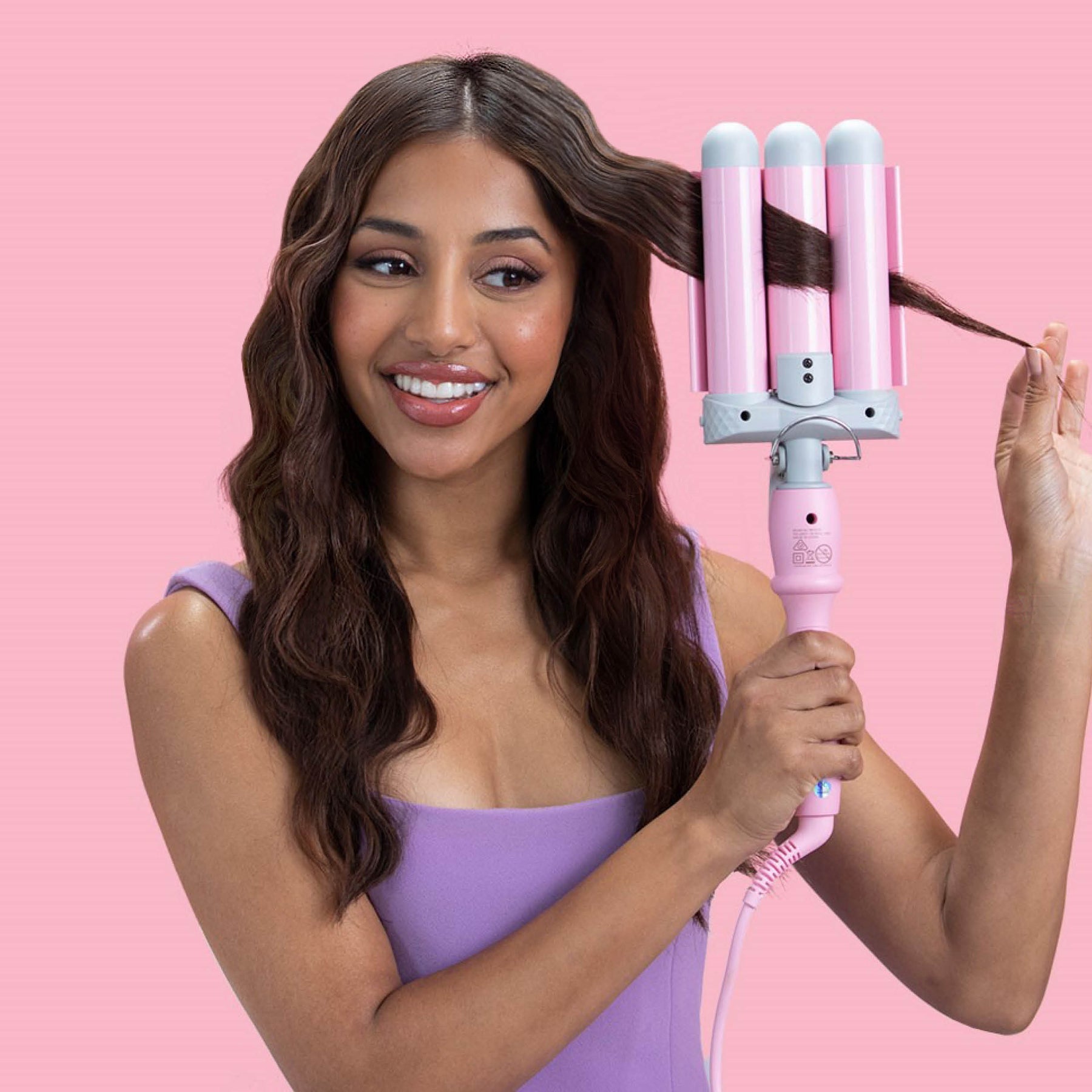 It's so easy to get look and feel you have always wanted and in a fraction of the time!
I can create an entire head of waves with this.
Love the effect this has given my hair. Very happy :)
Get Dramatic Hair with Ease
Hair should be clean, dry, and free of tangles before using. Rest the iron on its stand on a smooth, heat-resistant flat surface, and plug it in. Press and hold the ON/OFF button until the unit turns on and the 'ON' indicator lights up. Adjust the temperature using the left and right buttons to reach your desired heat. For healthier styling, we suggest using a 180°C/360°F heat setting unless you have very coarse/thick hair.
The key to long-lasting, lush waves is prepping your hair correctly. You want to inject your hair with a heat protectant and contour spray, like our Mermade Mist, which will protect your strands from heat and give your hair extra hold.
Once you have finished waving, make sure the hair has completely cooled down before touching it to allow it time to set. For a beachy effortless wave, brush the wave out with our Mermade Brush or comb through. Finish by using an extra spray of Mermade Mist for hold and shine, or a flexible workable spray or a lacquer spray for more hold.
Start by dividing hair into sections with our Grip Clips. Smaller sections will create more defined waves. Taking one section at a time, start at the top close to the roots and clamp the hair, making sure that the hair is evenly placed inside the barrels. Be careful not to touch the scalp with the tool. Hold for 2-5 seconds. Hold for less time if hair is easy to curl, or if you want less defined waves. Once you have released your first clamp, re-clamp the top barrel of the waver on to the last wave bend. You want to overlap each wave with your waver to create a seamless wave from roots to ends. Repeat this process through to the ends of the whole head.
To turn it off, press and hold down the power off button until it reads 'OFF'. For your safety, the tool will auto-shut off after 60 minutes. Allow the tool to cool down completely before stowing away. Make sure to wipe down the tool after use to avoid product build-up on the tool.
Frequently asked Questions
Can I use the Mermade Waver on colored hair?
It is very important to always use a heat protectant on your hair before styling. On freshly dried hair, heat can change or alter the tone of the color. It is very important to test the heat on a small section of your hair before uring Mermade on your entire head.
Does the Mermade Waver suit all hair types?
Mermade Hair tools are suitable for hair of any thickness, however, they will not work on very curly hair. We suggest blow-drying your hair or brushing it straight before clamping. We have tutorials for short and long hair on our social media and throughout our website. Hair should be at ear length to use our 1.25-inch and 1-inch waver.
Is heat styling damaging for my hair?
Always use a heat-protectant spray before styling. However, our products are made so that they protect your hair as much as possible. Our PRO Waver has high-grade ceramic barrels that are designed to reduce unnecessary damage to hair and stop hair from getting frizzy!
How do I purchase a gift card?
Just select the type of card design you want and the denomination. The gift card will be sent to you directly. Gift cards cannot be used in conjunction with a discount code. Gift cards cannot be used to buy other gift cards.
Effortlessly Achieve Big, Shiny, Bouncy Waves with Mermade Hair