JOIN 10,000+ TEA CLUB MEMBERS
Discover Exquisite Teas from Around the World
Treat Yourself to New & Delicious Loose Leaf Teas Every Month
Naturally, all Plum Deluxe teas are vegan, dairy-free, and gluten-free

Plus, our artisan, handcrafted blends are free from pesticides

The hand-selected boxes ensure you always have a new favorite on the way
We take community feedback on all of our blends into account to make sure we're always sending teas you love.
Lemon Ginger with a Hint of Basil

Bahama Breeze Coconut Pineapple

Nana's Famous Peach Tea (with almond)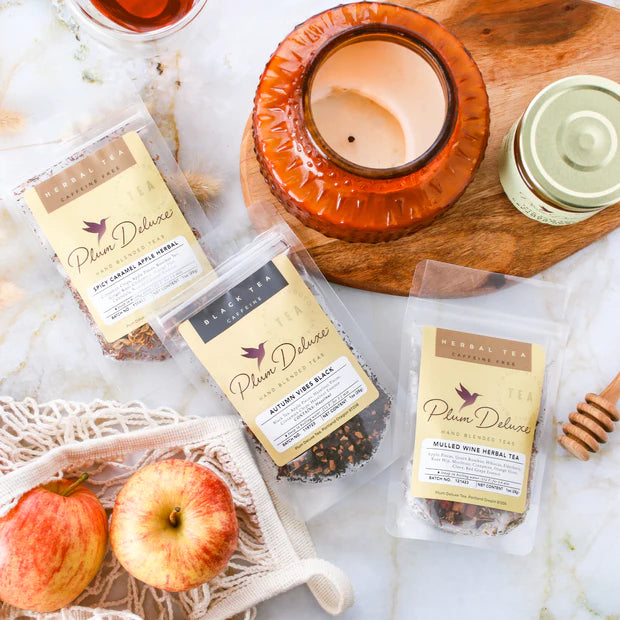 Plum Deluxe stands out due to its personal touch, specialized offerings, and a strong focus on community and connection.
As a small, family-owned business, each product is crafted with love, positive intentions, and gratitude.
OR Unlike many large-scale operations, Plum Deluxe's teas are hand-blended with love and expertise in Portland, Oregon by the founder, Andy Hayes.
Focusing on intention, every new blend is crafted keeping a specific ambiance or setting in mind, and only the best teas reach their customers.
Prefer to Avoid Certain Flavors, or Don't Drink Caffeine?
You want to discover delicious new teas to add to your collection and expand your palate…but you also already know that you don't like grapefruit. (Or maybe citrus. Or bergamot. Or another flavor.)
OR you simply don't drink caffeine — so you want only non-caffeinated teas from your Tea of the Month Club membership.
No problem! When you choose a membership level at $10/mo or above, you'll also be able to tell us your flavor preferences, and whether or not you prefer to receive only non-caffeinated teas.
Join 10,000+ Tea Club Members
Join 10,000+ Tea Club Members
Join 10,000+ Tea Club Members