Discover Healthy
Indulgence
Snack Better with SkinnyDipped
Discover Healthy
Indulgence
Rated 4.9/5 by Verified Customers
Heart-healthy snack packed with anti-oxidancts
A better snack for weight loss
Rated 4.9/5 by Verified Customers
Heart-healthy snack packed with anti-oxidancts
A better snack for weight loss
SkinnyDipped is the healthier way to satisfy a sweet tooth
SkinnyDipped's balanced approach offers more nut than chocolate in each bite, resulting in significantly less sugar than traditional chocolate-covered snacks.
No Artificial Colors or Flavors
No Artificial Colors or Flavors
Why is SkinnyDipped better than candy?
SkinnyDipped actually has nutrients
SkinnyDipped refers to the way our almonds, cashews, and peanuts are dipped in a super thin layer of chocolate or yogurt; the nuts and coating are balanced in the most delicious (and healthy) way possible. You get more nut than chocolate in every bite – which means way less sugar than traditional chocolate-covered snacks.
SkinnyDipped is all natural
SkinnyDipped uses the best ingredients
SkinnyDipped is gluten-free & kosher
SkinnyDipped does sweet naturally
SkinnyDipped is the ultimate solution for making your snack routine healthy and satisfying
Made with sustainable chocolate

Made with sustainable nuts

Made without artificial colors

Made without artificial sweeteners

Made with organic ingredients



Packed with anti-oxidants


Stay energized throughout the day with SkinnyDipped
When you crave a satisfying snack that's good for you, turn to SkinnyDipped nuts. Unlike processed snacks, SkinnyDipped has all the benefits of nuts, which are a powerhouse of nutrition. Packed with healthy fats, protein, fiber, vitamins, and minerals, they keep you full and energized. Plus, their antioxidants support your immune system and overall health. SkinnyDipped adds a thin layer of chocolate to add that touch of sweetness. The perfect alternative to candy!
Energy Levels After Eating Nuts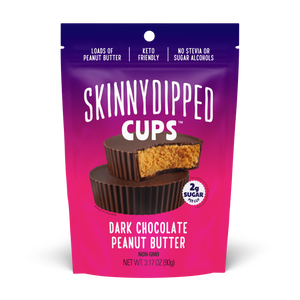 What are you waiting for?
Get SkinnyDipped today.
A tasty treat for any time
Whether you're seeking an energizing pick-me-up, a guilt-free dessert, or a companion for your cozy evenings, SkinnyDipped's flavor range has you covered. We believe that snacking should be an experience that excites your senses and nourishes your body, and our assortment of flavors is designed to do just that. So, embark on a flavor-filled journey with SkinnyDipped, and discover the art of snacking reimagined.
SkinnyDipped makes entertaining easy
Looking to add a touch of sophistication and healthiness to your next gathering? SkinnyDipped has two dozen flavors. Grab a couple for your next party. From almonds to cashews, nuts bring a satisfying crunch and a burst of flavor that pairs perfectly with any occasion. Not only do they cater to various tastes, but they also offer a healthier alternative to traditional party snacks. So, whether it's a casual get-together or a special celebration, serving nuts will leave your guests impressed and nourished.
Why SkinnyDipped offers MORE with each bite
Protein helps stave off hunger and prevents binge eating.
Whole ingredients taste better than processed food.
Many snackfoods are full of chemicals and preservatives. Not SkinnyDipped!

Healthy snacks should also be fun. SkinnyDipped has many flavors because variety is the spice of life.
Snacks with ingredients you can pronounce
Each SkinnyDipped product has whole foods like almonds, cashews, peanuts, dark chocolate, cocoa powder, maple sugar, and sea salt. SkinnyDipped sources the best ingredients.

Made to keep you satisfied
SkinnyDipped is made to ensure you get healthy plant protein. Each serving has 5 grams of protein.
Whole nuts are a fantastic source of protein — and unlike traditional chocolate nuts, ours have a super thin layer of dark chocolate, so you get more nut than sugar in every bite and just enough chocolate to make your day a little sweeter.
SkinnyDipped vs Ghiradelli
Protein packed to make sure that your blood-sugar doesn't spike.
SkinnyDipped uses natural, non-GMO ingredients to ensure your snack habit won't fill your body with chemicals.
SkinnyDipped never compromises on flavor so every bit is flavor packed and satifying.
Packed with Unhealthy Sugars
Simple sugars can make your blood sugar spike.
Industrially produced chocolate is full of chemicals and light on flavor.
"SkinnyDipped takes snacking to
another level. Healthy
and delicious"
The Today Show
Read why our customers love SkinnyDipped
Freaking brilliant. This snack hits the spot, I love getting to eat choclate while still getting all those good nutrients. Win Win.
So yummy. I like the peanut and the cashew ones. And the almond ones. Really all the ones.
I have a terrible sweet tooh and most healthy snacks suck. But these are so satisfying.
We're available online and in shops.
Get them everywhere you get your snacks. You won't be sorry.
164 W 25th Street, 9th Floor, New York, NY 10001
©2023 SkinnyDipped All Rights Reserved
* Terms and conditions apply. See cart for details