Exclusive Offer: Use code PRESS20 for 20% off your order
Give Your Senior Pup Total Security
Unveil Safety & Style with Indoor Leggings for Senior Dogs
Keeps Paws from Slipping on Floors
Prevent your pup from slipping on wood or tile floors. Give them the security of traction again so they can wander around freely. No more carpets and yoga mats, just super-soft footed leggings so they can walk everywhere again.
"Dog leggings exist and they are actually genius!"
So You Have One Less Wrinkle to Worry About
Avoid Costly Trips to the Vet
These leggings make life easier for your senior dog and you! How?
This means they don't have to wear a cone

Prevents injury and trips to the vet

Interconnected so you don't lose another sock
They've been there for you!
Be there for them.
Make them Feel like A Puppy Again
Walkee Paws
Indoor Leggings
No Lost Socks in the Wash
It's easy to find the perfect size. We have a simple chart that helps you find your dog's size based on their paw size and height.
Use code HELPMYPUP for 20% off your order
Listen to Pups Regaining Their Confidence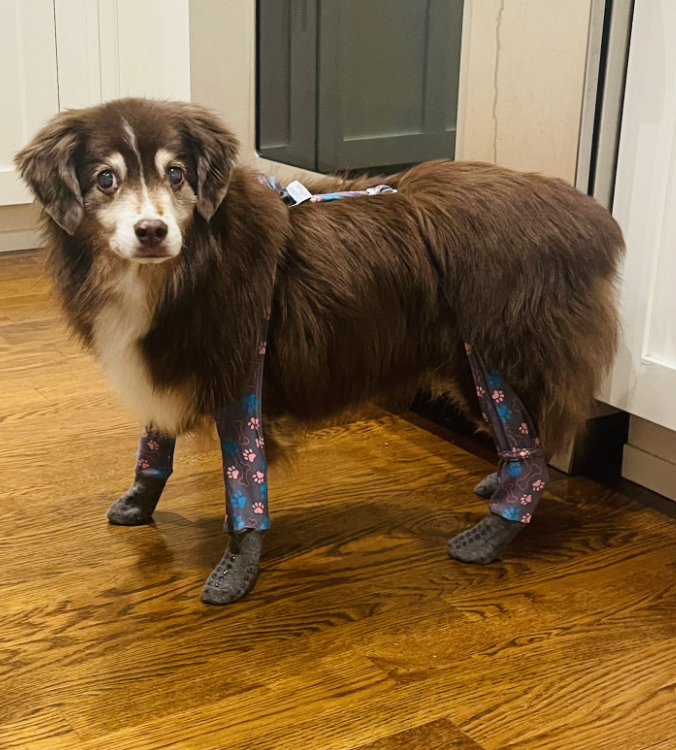 My 11 year old Mocha has struggled with rear joint/hip issues her entire life. Now she is older she loses traction on our tile floors. But I decided to go with walkee paws and am sure glad I did! She trust these socks and refuses to leave carpeted areas without them.
Thanks for helping Cuddles
My 9 year old Maltipoo was having a brad time on our wooden floors and refused to walk. Walkee Paws gave her back her confidence'
Teddy is a 10-year-old tiny Goldendoodle who is scared to walk on our floors . We had yoga mats all over the house before a friend told us about Walkee Paws. What a great invention - super easy to get on and they stay on. Teddy is now happy again!
So You Don't Have to
Worry About Your Best Friend
So You Have One Less Wrinkle to Worry About
Keep Your Best Friend Safe
Everyone Agrees
This Iron is Hot
Who Says Old Dogs Can't Learn New Tricks?
Over-the-back connector similar to our bestselling outdoor leggings with wider sock openings to easily slip on leggings.

We have four sizes: XS, S, M, and L. Our adjustable chest or underarm strap ensures socks stay on when your pup lays down and gets back up. Drawstring elastic back leg openings that can be tightened to keep leggings in place.

How are they different from outdoor leggings?
Rather than the classic waterproof rubber boots, these footed leggings feature cushioned socks with silicone dots for traction on wooden and tile floors—so they're perfect for senior dogs or injured pups who slip and slide on indoor surfaces.
Can it reach the middle of the garment?
How is it different from a hair straightener?
Which fabrics can I use my Nori Press on?
Help Your Best Friend Today
Use code HELPMYPUP for 20% off your order
© 2023 Walkee Paws, Inc. All Rights Reserved.